Praxis Business School, a premier institution focused on building digital leaders of the future, has adopted the Chandrapur under-16 Girls volleyball team for Season 3 of the Brahmaputra Volleyball League (BVL). The team will be coached by former district-level volleyball player Mr Rupam Das, who hails from the Kamrup Metro district. After adopting a club in 2021 for BVL Season 2, Praxis continued their association for BVL 2022.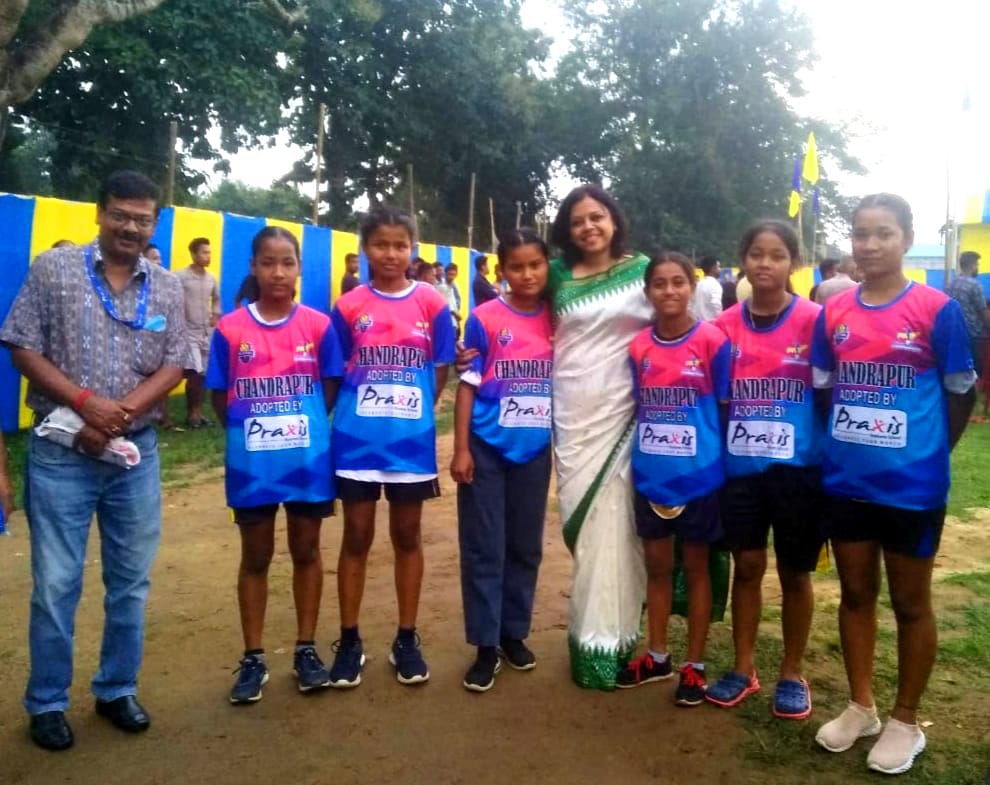 Mr Das has handpicked all the 20 girls on the team from the Government schools of the Chandrapur district. Praxis Business School, reaffirms its commitment towards women empowerment with various efforts such as running a 'Women in Tech' scholarship and also providing Digital Literacy to the girl child through various self-help groups. Praxis came to Mr. Das' aid to ensure that his team did not face any financial constraints in their journey towards fulfilling their sporting dreams.
Educationist and co-founder of Praxis Business School Foundation Prof. Charanpreet Singh said on the development, "Playing any kind of sport is important as it builds teamworkand leadership skills besides imbibing confidence, discipline and enhancing self-worth. Good health and fitness are also a given in sporting pursuits, which are so indispensable, especially for a girl child in India. As an institution, we have always been looking to develop youth through sporting and other extracurricular activities, besides nurturing excellence in education. We especially wanted to support young women in fulfilling their passion. Thus, adopting Chandrapur U-16 Girls team was an easy decision to make."
Also sharing his views on the development was Mr Rupam Das, Coach, Chandrapur U-16 Girls, BVL, saying, "Prof. Singh's passion for sports and women empowerment is electrifying. It is such a huge boost to have someone like him and his energetic team at Praxis beside our girls. The team is bursting with talent, and they have big dreams to represent the state and the country. The thread that binds all these aspiring athletes is their impoverished backgrounds, yet their passion to tread along the path towards their final goal is heart-warming. I am sure the support from Praxis will go a long way in fulfilling at least some of those dreams. I once again want to thank Prof. Singh and Praxis on behalf of everyone in the squad."
Mr Das also highlighted some prominent players of Chandrapur team, including Nandita and Nandini Boro from Tatimara village, who dream of playing for the tricolour one day. Dipsikha Das from Tatimara village is another rising star. Kanika Bangjang from Thakurkuchi village and Riha Namosudra, are also names to look out for, according to the coach.
The BVL, founded by the former captain of the Indian Volleyball team Mr Abhijit Bhattacharya, has grown by leaps and bounds over the years. BVL 3 started from mid-October this year.
In BVL Season 1 (2020) there were about 50 teams from 35 villages. Now in Season Three (2022) over 4300 children will participate in 393 teams from 144 villages of Assam.
For the under-16 age group category, matches will be organized in 'home and away' format. No matter how many boys' and girls' teams participate in the league, there is equal representation in the Super League.
The most encouraging news of BVL Season 3 is the increase in the number of Girls' teams. In Season 1, there were 17 Girls' teams and 33 Boys' teams (2:1) in the U-16 category. In Season 3, now the ratio is almost 1:1 in the U-16 category (Boys-121 and Girls-118).
Brahmaputra Volleyball League has turned out to be the largest community-based league, attempting to promote sports at the grassroots level in Assam for Under-16 age category boys and girls over the last few years.
The mantra behind this phenomenal success is, "A good team can win a volleyball game when they are ahead, a great team can win when they are behind." Reckons Prof. Charanpreet Singh, Praxis Business School Foundation. "With Praxis being committed to community-building initiatives, it was a privilege for us to be associated with a tournament like BVL that helps to create a sports ecosystem in rural areas of India", he said.
About Praxis
Praxis Business School designs and delivers industry-focused post-graduate programs at its Kolkata and Bengaluru campuses. Praxis offers a two-year full-time AICTE-approved Post Graduate Diploma in Management (PGDM), a 9-month full-time Post Graduate Program in Data Science (PGPDS) and a 6-month online weekend-only Post Graduate Program in Data Engineering (PGPDE). The PGPDS program is presently ranked number one in the country by the Analytics India Magazine rankings for 2021. The PGDM program is ranked 2nd in Kolkata and 4th in East India according to Times Annual B-School survey 2022. The name Praxis symbolizes the philosophy of the institute. The root of Praxis is Greek, meaning 'to do', or the practice of an art, science, or technical occupation. In other words, Praxis is 'practice informed by theory and theory-informed by direct practice'. That is what Praxis Business School endeavours to bring to its students – a program that combines the art and science of theoretical learning with the virtues of practical training. All this with a relentless focus towards building leaders for India's digital future, at the same time bridging the gender gap in IT and tech.