Gandhiji was opposed to religious conversions; considered religious beliefs a matter of personal choice: CM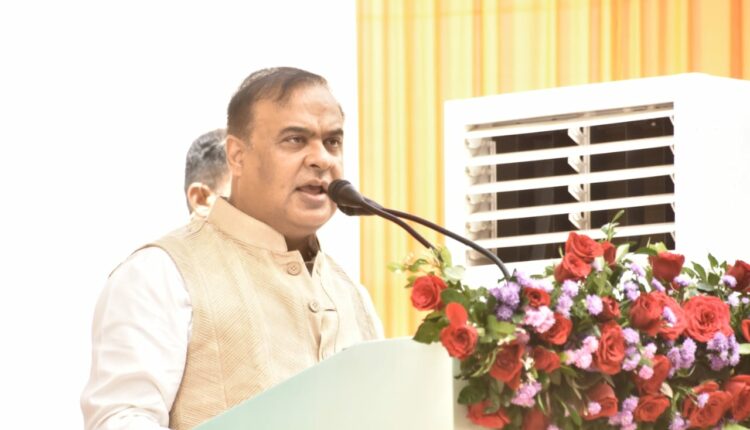 Gandhiji Considered Untouchability a Curse; Called for Reforms in Hindu Society: CM Dr. Sarma
Assam Chief Minister Dr. Himanta Biswa Sarma on Monday visited Gandhi Mandap located at the hilltop of Sarania Hill in Guwahati to pay floral tributes to the "Father of the Nation" Mahatma Gandhi on the occasion of the latter's 154th birth anniversary.
Addressing a public meeting correlating with the event, Chief Minister Dr. Himanta Biswa Sarma said Gandhiji, through his works, symbolized peace and universal brotherhood and in contemporary world, the philosophy propagated by the great leader of the masses during his lifetime continue to inspire people across nations to embrace the path of non-violence. The practice of the concepts of truth and peace remained integral to Gandhiji's life, Chief Minister Dr. Sarma added. Stressing upon Gandhiji's relentless activities aimed at emancipation of the downtrodden sections of the society, Chief Minister Dr. Sarma said the "Father of the Nation" considered the practice of untouchability a curse on humanity and propagated the need for reforms in Hindusim so as to annihilate any kind of discrimination based on one's caste between members of the Hindu society.
Chief Minister Dr. Sarma said Gandhiji was opposed to religious conversion by the means of allurement and that he was of the opinion that religion is a matter of personal choice and one shouldn't intervene or interfere in another's person's religious beliefs and practices. Gandhiji believed that had the Christian missionaries in the subcontinent attempted to practiced the teachings of Christ such as selfless compassion, forgiveness, among others, instead of putting all their energies to increase the number of native converts to Christianity, the natives of Bharat would have been more receptive towards the Abrahamic religion, the Chief Minister stated.
The Chief Minister said Gandhiji had immense faith in the power of prayers and believed that in order to gain the Almighty's blessings, one should resort to prayers with all devotion and honesty.
Gandhiji had a soft corner in his heart for Assam and its residents, the Chief Minister stated, adding that this was manifested by more than four visits — in 1921, 1926, 1934 and 1946 — to the State by the great leader during his lifetime. Gandhiji extended wholehearted support to the people of Assam's opposition to the Cabinet's Mission's proposal of clubbing the present-day Northeast India together with the then East Pakistan (present-day Bangladesh), Chief Minister Dr. Sarma said.
Chief Minister Dr. Sarma exuded confidence the ideologies and teachings of Gandhiji would be embraced by all to lead a principled, meaningful life.
The event was also attended by Member of Parliament Queen Ojha, Mayor of Guwahati Municipal Corporation Mrigen Sarania, District Commissioner (Kamrup Metro) Pallab Gopal Jha, Guwahati Commissioner of Police Diganta Barah, along with a host of other dignitaries.