CM Dr. Sarma Attends First-Ever "Regional Review Meeting of North-Eastern States of India on AYUSH"
North-East of India can Contribute Greatly Towards Further Spread of AYUSH: CM Dr. Sarma
Ayurveda, Yoga are Time-Tested Practices; Promote Holistic Well-Being: CM Dr. Sarma
Mainstreaming of AYUSH Creating Immense Entrepreneurial Opportunities; Youths of NE Must Make Best Use of it: CM Dr. Sarma
AYUSH can Contribute Towards Growth of Tourism, Hospitality Industry in North-East; Create Employment Opportunities: CM DR. Sarma
Assam Chief Minister Dr. Himanta Biswa Sarma on Friday attended the first-ever "Regional Review Meeting of North-Eastern States of India on AYUSH" organized by the National Ayush Mission, Assam and the State's Health & Family Welfare Department at the premises of Vivanta Hotel in Guwahati.
Speaking at the event, Chief Minister Dr. Sarma said the North-eastern States can immensely contribute towards the further spread of practices such Ayurveda, yoga, naturopathy, unani and homeopathy among the residents of the country. Referring to Ayurveda, yoga, among others, as time-tested practices, Chief Minister Dr. Sarma said AYUSH is gradually rising in prominence as focus tilts towards holistic well-being.
Prime Minister Narendra Modi had launched the National Ayush Mission to propagate the practice of traditional system of treatments and medicine and to provide a boost to related educational infrastructure and ensure quality control, Dr. Sarma stated, adding that these efforts gradually have started to bear fruits as AYUSH gains international recognition from numerous quarters. He added that initiatives such as International Yoga Day too are contributing greatly towards raising the awareness of the general public across the globe about the health benefits associated with practice of the ancient Indian tradition of yoga.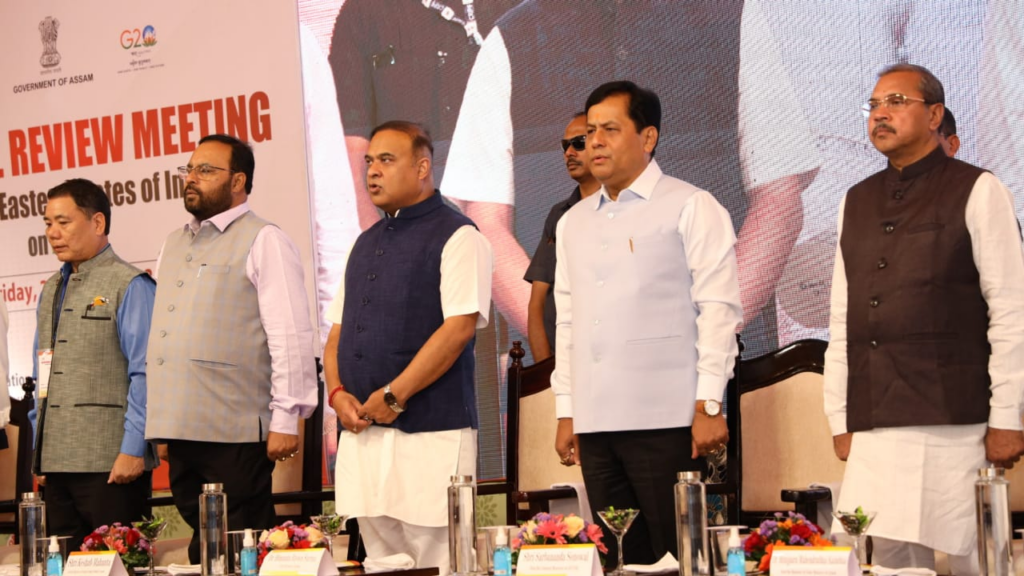 Chief Minister Dr. Sarma also stressed upon the need to capitalize on the opportunities that have been created with the recent mainstreaming of AYUSH practices across the country. He called upon the youths from across the country in general and those from the North-eastern States in particular to make the best use of the entrepreneurial opportunities the AYUSH sector is offering, while adding that at present, as many as 40,000 units of micro, small and medium enterprises (MSMEs) are involved in production of AYUSH-related items and that the sector can accommodate a much greater number of production units owing to the steady increase in demand such products.
Referring to the North-eastern region of the country as a treasure trove of economically-viable plants and herbs with medicinal properties, Dr. Sarma said the eight States of the region must strive to attain a status similar to that of Kerala in the field of tourism for traditional medicinal healing and cure. This would contribute towards growth of the tourism and hospitality industry and create a good number of employment opportunities in the region, he added.
The Chief Minister expressed concern at the trend of AYUSH doctors and practitioners often prescribing allopathic medicine to their patients. This can be attributed to a lack of pride regarding AYUSH among some of the practitioners of alternative and traditional forms of medicines, Dr. Sarma said, adding it has now been proven through various research works that traditional forms of treatments such as Ayurveda, yoga, naturopathy is highly effective and have no side-effects as often seen in the use of allopathic medicines.
Chief Minister Dr. Sarma exuded confidence the North-eastern States would emerge as one of the hotspots of AYUSH practices in days to come. He thanked the Union Minister of AYUSH Sarbananda Sonowal and AYUSH Ministry's Minister of State Dr. Munjpara Mahendrabhai Kalubhai for their ministry's relentless attempts to propagate the practice of traditional forms of medicines and treatments.
Union Minister of AYUSH Sarbananda Sonowal, Union Minister of State for AYUSH Dr. Munjpara Mahendrabhai Kalubhai, Manipur Minister of Health, Family Welfare & AYUSH Dr. Sapam Ranjan Singh, Assam Minister of Health & Family Welfare Keshab Mahanta, Sikkim Health Minister Kunga Nima Lepcha, Arunachal Pradesh Health & Family Welfare Minister Alo Libang, Tripura Finance Minister Pranajit Singha Roy, Mizoram Health Minister Dr. R. Lalthang Liana, along with a host of other dignitaries, were also present.