Vice President along with Governor and Chief Minister attend felicitation programme of Marwari Samaj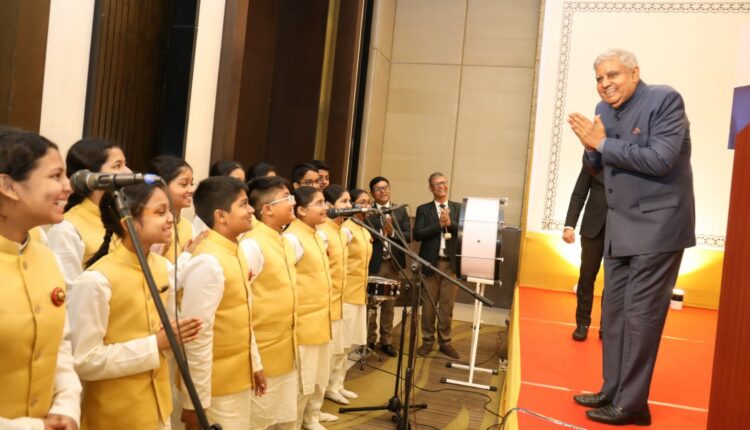 Vice President of India Jagdeep Dhankhar along with Governor Gulab Chand Kataria and Chief Minister Dr. Himanta Biswa Sarma on Monday attended a reception programme which the Greater Guwahati Marwari Samaj organised to accord warm felicitation to the Vice President here today.
Speaking on the occasion, Chief Minister Dr. Sarma expressed his gratitude to Vice President Jagdeep Dhankhar for taking out his time out of his busy one day tour to Assam to meet the people belonging to Marwari community. He said that in the development of Assam, the Marwari people are playing a crucial role. Not only in economic development, the contribution of Marwari Samaj for cultural and intellectual development of Assam is immense.
The Chief Minister acknowledged the contribution of the Marwari people who took several philanthropic steps in donating plots of land for establishment of university, colleges and schools across the state. He also said that there are instances where many people belonging to Marwari community adopted the Assamese language, practised Assam literature and contributed to its enrichment.
He also said that the role of the Marwari people in running several philanthropic institutions has been praiseworthy. He also thanked the Marwari Samaj in taking an important role in managing and running Shree Gauhati Gaushala. He said that people belonging to Marwari Community are working very diligently along with the local people of Assam for the growth and development of Assam.
Minister for Housing and Urban Affairs Ashok Singhal, representative from Marwari Samaj Vijay Singh Daga, Chief Secretary Paban Kumar Borthakur, DGP GP Singh and host of other dignitaries were present on the occasion.