Joint Columns of Security Forces comprising of Indian Army, Manipur Police, CRPF, BSF and IRB have been actively involved in combing operations in general area Sagolmang of Imphal East in Manipur. In the last one month, the security forces have conducted three major successful operations in Khamenlok-Gwalthabi, Wakan and Shantipur ridges which have resulted in the recovery of 18 Automatic Weapons, 1085 Bombs, 14 Improvised Mortars / Rocket Launchers, 06 Rifles / Pistols, 01 Mortar, 530 assorted ammunition and 132 other war-like stores. All the recovered weapons, ammunition and stores were handed over to Police as per laid down procedure on 19 Oct 2023.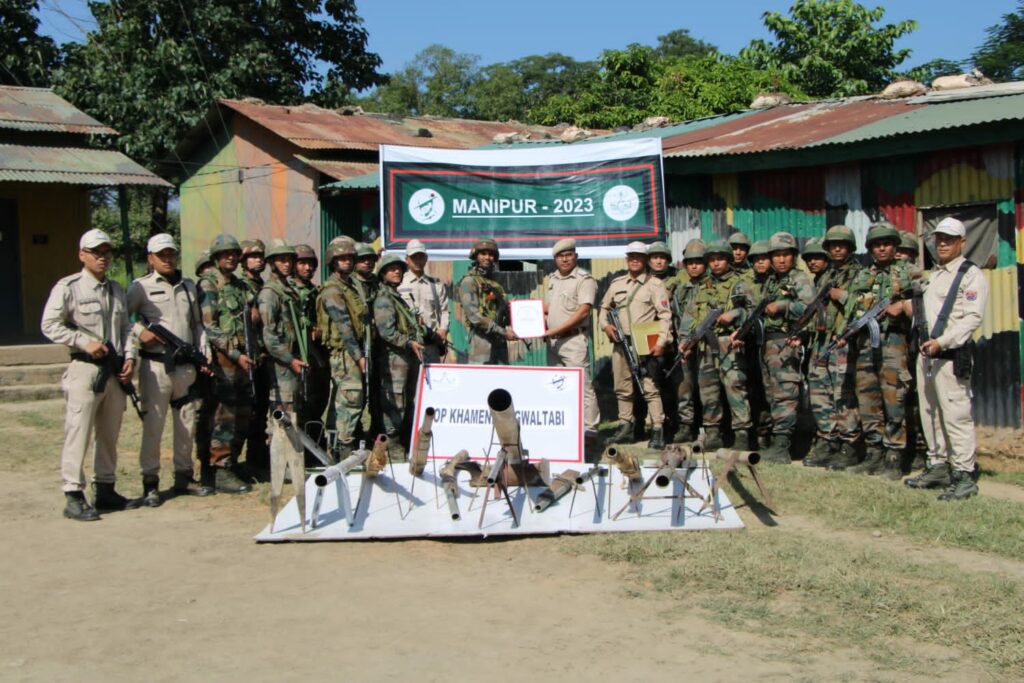 Khamenlok – Gwalthabi, Wakan and Shantipur ridges separate different villages of two warring communities in Imphal east. Intelligence reports were indicative of the build-up of weapons, ammunition and other war like store caches by both the communities on either side of the ridges. The caches were probably being built up by inimical elements for attempting misadventure in each other's area. The security forces took note of the intelligence inputs and carried out extensive surveillance and launched multiple search operations to recover maximum war like stores with an aim to thwart any attempts of firing or arson by miscreants. The efforts of the Indian Army in conduct of joint combing operations with Manipur Police and and the synergy developed has enabled Manipur Police in regaining its confidence in handling the menace of armed miscreants, mobs and illegal possession of arms.
Relentless efforts of all the security forces including the Indian Army in carrying out combing operations in Manipur has aided in assuring the population of early return of peace and normalcy in Manipur.