Photo exhibition on 9 Years of Seva, Sushasan and Garib Kalyan and Poshan Abhiyan begins at Rangia College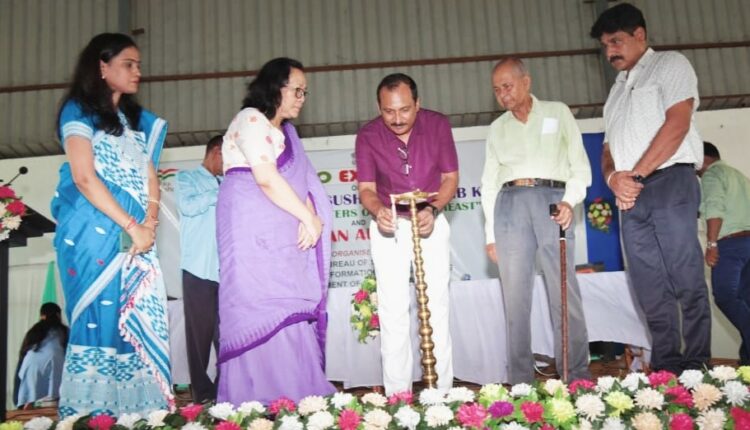 Photo exhibition on 9 Years of Seva, Sushasan and Garib Kalyan and Poshan Abhiyan begins at Rangia College
CBC's exhibition aims to create awareness on Poshan Abhiyan : Jane Namchu
Poshan Abhiyan's objective is to tackle malnutrition through a life-cycle approach says CDPO, Rangia
The two day long Photo exhibition cum outreach programme by Central Bureau of Communication(CBC), Regional office, Guwahati begins today at Rangia College. The theme of the exhibition is 9 years of Seva, Sushasan and Garib Kalyan, Freedom Fighter's of North East and Poshan Abhiyan.
Addressing the inaugural session Ms. Jane Namchu, ADG, NE Zone Ministry of I & B said that government is taking various developmental initiatives to bring positive changes in the society. She said that one such initiative is Swachata Hi Seva, under this several cleanliness drives were organized and it's seen remarkable public participation. She also administered the Swachata Pledge to the students and visitors at the exhibition. She also highlighted about the need for creating awareness on Poshan and the steps taken by the government under Poshan Abhiyan.
Speaking at the event Dr. Brajendra Saikia, Principal of Rangia College said that through this kind of exhibition the common mass will be more aware of the program and policies of the government. He also appreciated the initiative of CBC Guwahati for organising such an event at Rangia College.
Addressing the gathering Ms. Pritisha Kalita,Child Development Project Officer, (CDPO) Rangia said that Poshan Abhiyaan, has been instrumental in advancing nutritional outcomes for pregnant women, lactating mothers, adolescent girls, and children under 6 years of age in a comprehensive manner. She further said that the objective is to tackle malnutrition through a life-cycle approach and the aim is to cultivate widespread awareness concerning critical human life stages: pregnancy, infancy, childhood, and adolescence.
Dr Hemen Sharma, Vice-Principal Rangia College in his address said that the developmental initiative of the government must reach to the grassroots level and this kind of exhibition will help in creating awareness about it. Sucharita Sahoo Field Publicity Officer, CBC, Guwahati spoke about the aim and significance of the programme in her welcome address.
Ranu Choudhary, HoD, Political Science department, Prabin Kalita, Retd. Principal Pub Kamrup College were also present on this occasion. The two day exhibition showcases various photo panels on the various initiatives and schemes of government in the last 9 years with a special focus on Poshan Abhiyan. The exhibition also showcases photo panels on many unsung heroes of India's freedom struggle as well as freedom fighters of the North-east. Various competitions including drawing, quiz and dance among students were scheduled in the two days event.