Law Soon to Prevent Sale-Purchase of Land to Non-Indigenous Communities within 8-Km vicinity of Batadrava Thaan: CM Dr. Sarma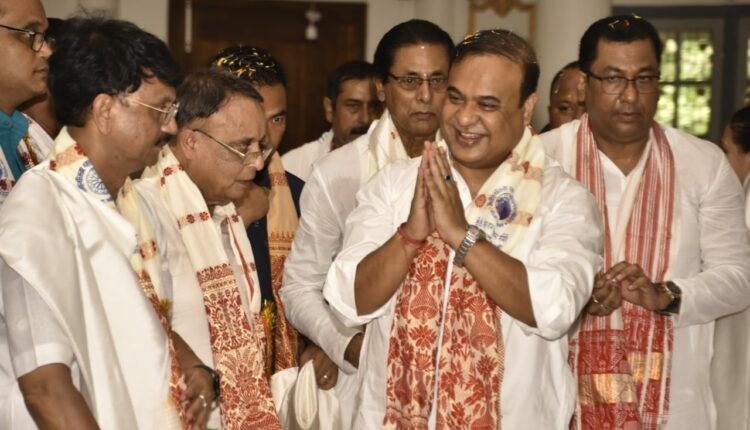 Batadrava Thaan Beautification: CM Dr. Sarma Inaugurates Satriya Sora, Conference Hall, Tourist Guest House, Office Complex
CM also launches Year-Long 575th Birth Anniversary Celebration of Mahapurush Srimanta Sankardev
Law Soon to Prevent Sale-Purchase of Land to Non-Indigenous Communities within 8-Km vicinity of Batadrava Thaan: CM Dr. Sarma
On the auspicious occasion of the 575th birth anniversary of Mahapurush Srimanta Sankardev, Chief Minister Dr. Himanta Biswa Sarma on Sunday inaugurated a number of infrastructural projects at Batadrava Thaan costing a total of ₹22 crores. Foundation stones for the projects inaugurated today — a Satriya Sora, a conference hall, the Damodar Ata Tourist Guest House and the office complex — were laid on April 16, 2021, thus leading to the completion of their construction in just 17 months. This apart, Chief Minister Dr. Sarma today also formally launched the year-long celebration of the 575th birth anniversary celebration of Mahapurush Srimanta Sankardev.
Speaking at the event, Chief Minister Dr. Sarma, paying rich tributes to neo-Vaishnavite saint Mahapurush Srimanta Sankardev on his 575th birth anniversary, said the Government of Assam has been relentlessly working for development of the revered Batadrava Thaan and the projects inaugurated today manifest that very tireless commitment of the current dispensation in the State. He added that in days to come, steps will be taken to beautify the two ponds in the Thaan premises, build parking spaces for visitors' vehicles, washrooms-toilets for the convenience of the devotees, among others.
Chief Minister Dr. Sarma said soon a law would be enacted to prevent sale and purchase of land within the 8-Km range of Batadrava Thaan premises to non-indigenous communities. The District Commissioner has been instructed not to give his assent to sale-purchase of land to and by people belonging to non-indigenous communities till the Act is brought in and implemented, Dr. Sarma added.
Chief Minister Dr. Sarma stated that the progresses on the developmental activities that were initiated outside the Batadrava Thaan premises were going on in full swing and that till date, around 81℅ of those works have been completed. While the first phase's project cost was estimated at ₹50 crore, a total of ₹114 crore shall be spent in the second phase of development activities, he added. Chief Minister Dr. Sarma further added that in addition to the beatification process of Batadrava Thaan, the Government of Assam has decided to work on beautification of another 21 sites directly related to Mahapurush Srimanta Sankardev.
Today's event was also attended by Shri Shri Salaguri Satra's Satradhikar Jogendra Narayan Dev Mahanta, Shri Shri Noruwa Satra Satradhikar Debananda Dev Goswami, Members of Assam Legislative Assembly Rupak Sarma, Jitu Goswami, Sashi Kanta Das, along with a host of other dignitaries.