OIL successfully concluded the 5 days BVL Super League 3.0, India's first grassroots volleyball league, under the aegis of OIL's flagship CSR intervention 'OIL Volleyball Mission' at Duliajan on 6th April 2023. The ceremony was graced by Chief Guest, Dr. Ranjit Rath, Chairman & Managing Director, OIL, Shri Bhaskar Jyoti Phukan, Managing Director, Numaligarh Refinery Limited, Ms. Pooja Suri, Independent Director, OIL, Shri Samik Bhattacharya, Independent Director, OIL, Shri Prasanta Borkakoty, RCE, OIL, other dignitaries and players from across the state of Assam.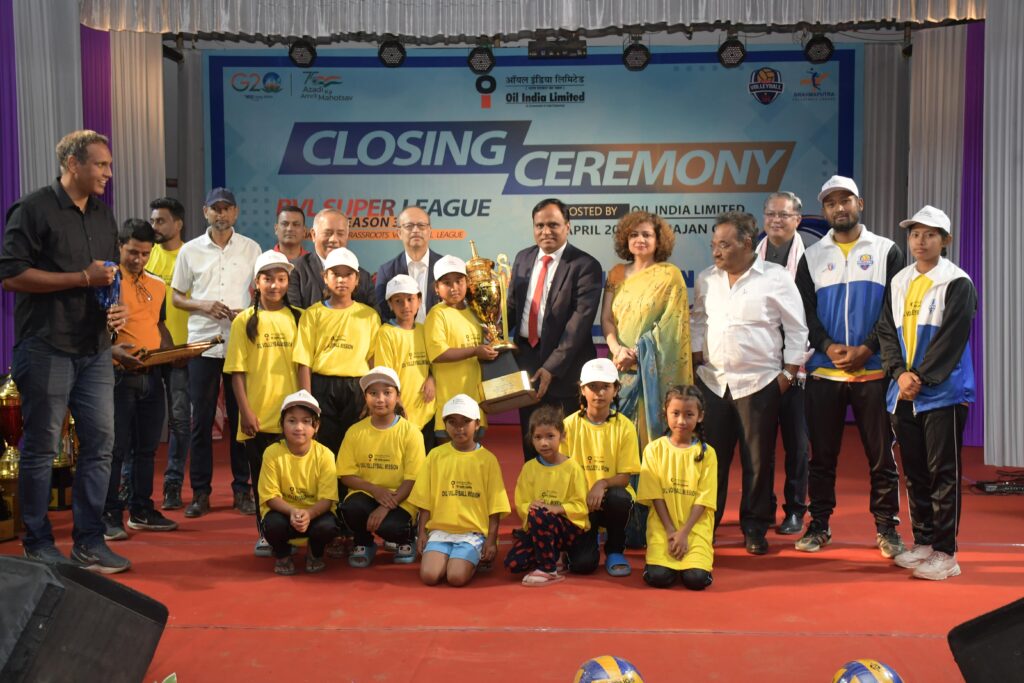 In his address, Dr. Ranjit Rath, CMD, OIL, praised the individual efforts of each participant in BVL season 3.0 and encouraged them to pursue the sport and lead the state and nation in the field of sports. Volleyball has been instrumental in uniting players of all ages from across Assam, and this has strengthened the bonds between communities in the region, he added.
After 5 days of intense competition and exciting battles, the finals came to an end on 6th April 2023 with 4 teams emerging as the winners under various categories. In the final match, U-16 category girls, Team Muguria from Bajali district bagged the winning trophy while the team Beseria from Sonitpur district declared winners in the under U-16 Boys.  In the U-12 category, Mikirbheta girls' team from Morigaon district won while the Bamgaon Boys Team from Biswanath Charaili district bagged the winner trophy. Later during the closing ceremony, Dr. Ranjit Rath, CMD, OIL ceremoniously handed over the prizes to the winning teams.
A brief about BVL-Season 3.0 supported under OIL's CSR:
OIL under CSR for promoting sports in rural areas, has been implementing 'OIL Volleyball Mission', a unique model at the grassroots in association with Brahmaputra Volleyball League (BVL) pioneered by Shri Abhijit Bhattacharya, former captain of the Indian Volleyball team. OIL's support in the last two years has channelized many hidden & budding talents of Volleyball belonging to OIL's operational areas as well as several other parts of Assam through advanced coaching and creation of teams. OIL is the first corporate to associate itself with such a noble cause which has been recognized for creating a sports ecosystem in the villages of Assam. This year the BVL Season-3 has played more than 600 matches in 144 villages of Assam. The final leg of the League known as 'Super League' comprising of a total of 32 teams (8 in each category – Under 16 Boys and Girls and under 12 Boys and Girls) was organized at OIL's Nehru Maidan Volleyball Court, Duliajan and several other courts of OIL's operational areas from 2nd April to 6th April 2023. In the last few days, close to 550 young players accompanied by coaches, referees and other associated sporting personnels were hosted by OIL at Duliajan.