The 8th edition of the European Higher Education Virtual Fair (EHEVF) India will be held on 23 and 24 November 2023 through a 3D virtual platform https://study-europe.net/register connecting Indian students with leading European higher education institutions. 73 higher education institutes from 21 European Union (EU) Member States including Bulgaria, Cyprus, Czechia, Denmark, Estonia, France, Germany, Greece, Hungary, Ireland, Italy, Lithuania, Malta, Netherlands, Poland, Portugal, Romania, Slovakia, Slovenia, Spain and Sweden will be present at the fair.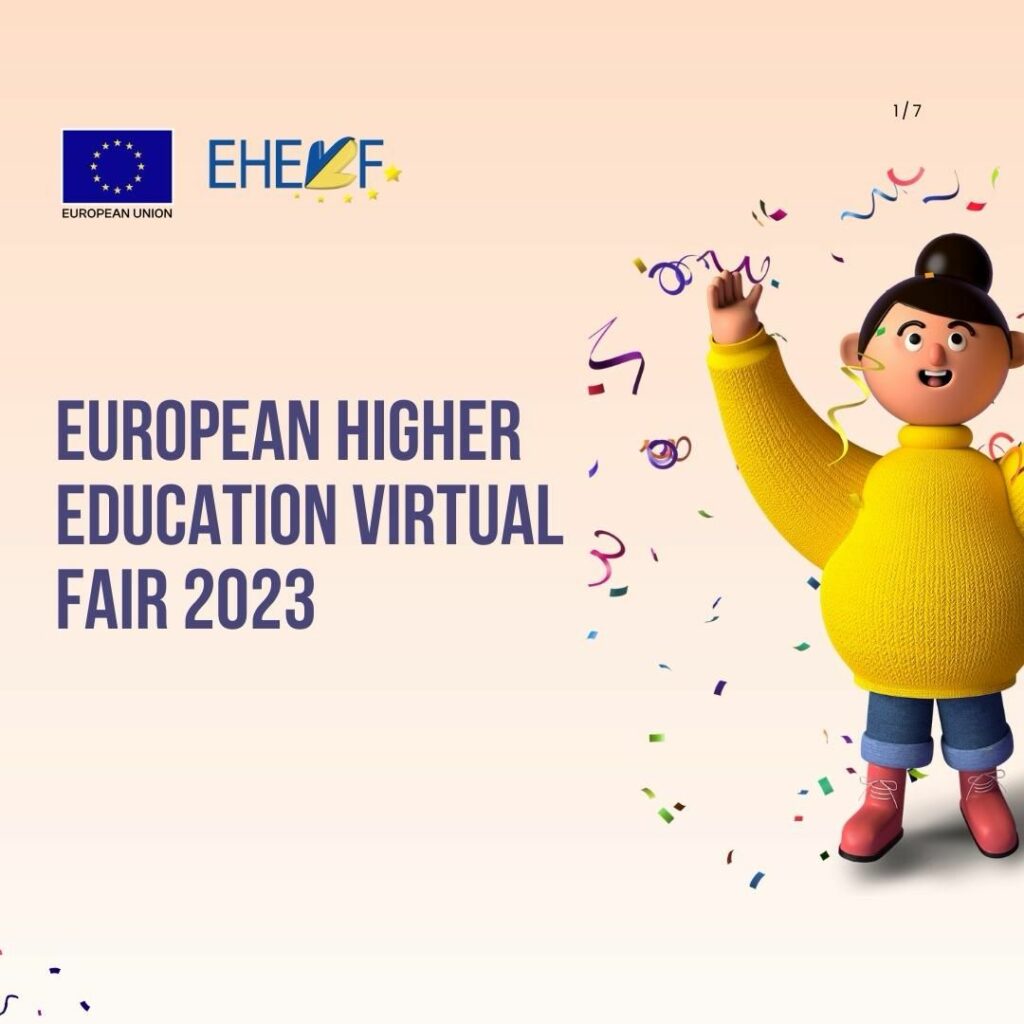 Higher education in Europe is increasingly gaining popularity among Indian students, being home to some of the best universities in the world. Besides the high academic standards in Europe, foreign students also stand to gain rich cultural experience due to the continent's cultural and linguistic diversity. Some of popular courses among Indian students range from Engineering, Law, Medicine, Mathematics, Computer and Data Science, Business, Finance, Economics, Architecture, Psychology, Philosophy and humanities to Fashion, Art, Design, Culinary Studies and Film Studies. Read the testimonials below.
Fourteen top-ranking European universities (ranked in the 500 Times Higher Education Ranking 2024) are participating in this edition of the EHEVF. These include Lund University and Linköping University (Sweden), Aarhus University (Denmark), Eindhoven University of Technology and Hanze University of Applied Sciences (Netherlands), University College Dublin and Griffith College (Ireland), Politecnico di Milano and University of Trento (Italy), Frederick University (Cyprus), University of Library Studies and Information Technologies (Bulgaria), University of Tartu (Estonia), University of Navarra (Spain), Constructor University (Germany).
Higher education and students play an essential role in the future of the two regions. Speaking about the EHEVF 2023, H.E. Hervé Delphin, Ambassador of the Delegation of the European Union to India, said, "80,000 Indian students chose the EU as the higher education destination in 2022 -23 which is a strong testament to the growing people-to-people ties between India and the EU ." He further added, "The EU is the world's leading destination for higher education accounting for 25% of the world's top 200 Higher Educational Institutes in the world. What makes Europe a preferred choice for higher education is that students and researchers gain professional proficiency while experiencing a blend of cultural and linguistic diversity. I encourage students to take advantage of this unique opportunity to explore some of the top ranking universities from across Europe." The EU offers many opportunities for Indian students to apply for fully funded Master degrees through the Erasmus Mundus Joint Master programme. Apart from this EU member states and universities have their own scholarship programmes, making it one of the most affordable education destinations. Many European universities also offer tuition-free programs, ensuring accessibility for students. Furthermore, there are numerous positions available for researchers mobility like the famous Marie Skłodowska-Curie Actions, presenting opportunities for academic and scientific growth. Master's and doctoral students often benefit from free education and, in some cases, receive stipends to support their studies.
There are seven agencies including Cyprus Ministry of Education, Sport and Youth, Cyprus High Commission, Embassy of the Czech Republic, DAAD, Study in Greece, Uni-Italia India Center and EIT InnoEnergy participating in this fair. They will assist students to gather information on the various scholarships and funding opportunities etc. that students could avail to realize their dream of pursuing their higher education in the Europe.
Virtual Fair: face-to-face with European Universities
EHEVF offers students in India a unique opportunity to interact directly with universities in Europe and explore possibilities for an excellent and affordable higher education. The two-day fair will be packed with activities, including webinars and live chats, which will provide students insight on the admission process, funding and scholarship opportunities. Students can also live chat with alumni and scholars from participating universities to hear their experiences.
Aspiring students can expect to seek clarity and information on:
Scholarship opportunities offered by the EU, EU Member States, through Erasmus+ as well as by national programmes and individual universities; Steps to apply for scholarships
How best to prepare to go to Europe
Post-study employment prospects in the EU
For more information:
Students interested to attend the European Higher Education Virtual Fair (EHEVF) 2023 can register for free at https://study-europe.net/register
About the European Union: The EU, which consists of 27 countries, has the world's second largest economy and its third largest population, after China and India. Though richly diverse, the countries that make up the EU (its 'Member States') are all committed to the same basic values: peace, democracy, the rule of law and respect for human rights. By creating a frontier-free single market and a single currency (the euro) which has been adopted by 20 Member States, the EU has given a significant boost to trade and employment.
EU-India relations: For over 60 years, the EU and India have worked together to reduce poverty, prevent disasters, expand trade, secure global goods, enhance security around the world and promote joint research in energy, health, agriculture and many other fields of mutual interest.