Encountering Changes Not The Experience Of Our Generation Only, Human History Reminds Us : Manoj Kumar Goswami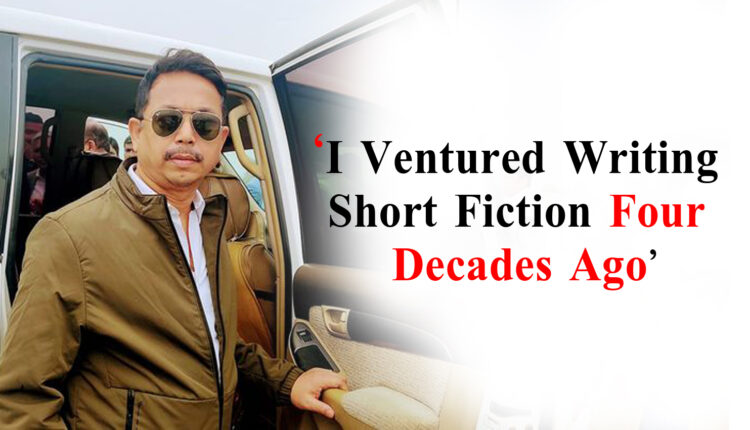 Manoj Kumar Goswami, Editor-In-chief of NKTV Plus, has been awarded the Sahitya Akademi Award for his book 'Bhul Satya'. The award was presented at the Sahitya Akademi's largest 'Sahityotsav' in New Delhi. The Sahitya Akademi Awards are presented in 24 Indian languages. Union Minister Arjun Ram Meghwal inaugurated the literary festival. The 6-day literary festival was attended by more than 400 writers.
Here's the full speech of author Manoj Kumar Goswami at the Kamani auditorium in New Delhi.
I ventured writing short fiction four decades ago. And it has not been a sustained engagement since then. Brief periods of output were interspersed with months of inactivity. It was more like a cuckoo waiting for the season of spring to trill; the writer in me did not scout plots around. There are writers around chronicling love, hatred, smiles and tears, penning many mores of the world of politics and the society at large. Literary society has no reason to be worked up with my participation or otherwise-, I told myself . I was sad looking around that like almost all other languages, readers are a shrinking community in my Assamese too.
As a professional journalist and broadcaster, I found myself amidst real stories twenty- four -seven, 'Life is stranger than fiction ', the journalist in me reminded my presumptuous writer self an old adage . The sparring between these two selves inhibited my fictional pen.
Thankfully, I realised that a writer cannot escape his responsibility to the society citing flimsy excuses like the busy schedule of a press man, nor can he/she ignore the stupendous variety the world around offers to the wielders of a creative pen. A news- story dates after a few hours, a successful work of fiction is timeless, provoking succeeding generations of readers to decipher new meanings.
From experiencing day long wait for a trunk call to living amidst the gen next engrossed on laptops and cell phones, the writer in me cannot ignore the massive changes in the collective and individual lives, our generation witnessed at the millenial cross-over. Connoisseurs witnessed many theoretical constructs in literary academics. At this moment, I am proud to express that in this climate of many contests and concurrences, modern Assamese prose and poetry, showing itself in full bloom in sixties in the previous century, is a mighty component of indian literature, with works compelling international admiration.
As one of the top 50 languages counting its number of speakers, which is more than many European languages, Assamese literature manifests to its connoisseurs the happy continuum of a rich legacy since Madhava Kandali who translated Ramayana in early 14th century through Sankaradeva and Madhabdeva in the 15th-16th century, the mighty soul who constructed a defining connect of the region with the great indian literary-spiritual cerebration . In the modern age Lakshminath Bezbaruah pioneered its international connect, ably followed up by Jyotiprasad Agarwalla, Saurabh Kumar Chaliha, Birendra kumar Bhattacharjee, Indira Goswami, Nilmani Phukan and several others till today.
As a humble pedestrian in this mighty path, I painfully realise how my realm had descended into an instability. Worse, this instability was engineered by many quarters in different roles, some even seeking to obfuscate the mighty existence of Assam in millenia old Bharata, by some chimera of neighbour hoods that defy history. Amidst this confusing scenario, I have been writing stories, from teen-age romance to terrorism, from international machinations to the laboured journey of a bucolic society with many feudal elements to a technological life of investment economy and democratic temper. Confident steps forward and frustrated reactions, my small corpus includes all the myriad facets the society in the valley experiences. Yes I tried other genres too, plays, travelogues, poetry and of course the journalese. I thank esteemed readers for their very wholesome response to my short fiction. And of course, I thank Sahitya Akademi for the kind recognition of my humble pursuit.
We are living at a time when the very existence of literature is interrogated. Many instruments of social media are ready lieutenants in this charge against the pen and paper. Alvin Kernan's epitaph on literature is dated by now. Encountering changes is not the experience of our generation only, the human history reminds us .
Indian literature living through millenia in a binary of the epic- tradition and disparate folk gems, witnessed a commingling of the elements from the West where fiction was the largest component and 'alien' to our realm. Besides delineating the present, Indian fiction photographed re-imagination of history and re-interpretation of the episodes and characters of the great epics. The binary of the Court literature and the folk treasures got obliterated in this abundance which l notice very visibly in Assamese. This reaching out to the world in a genre sourced from the West can be described in cinematic parlance as 'illuminating life in bounce light'.As a media-man who did the post graduate studies in Physics and continue writing short fiction, I seek to term this commingling borrowing a phrase from Mathematics as the Highest Common Factor in today's global literary conversation.