PM Also Dedicates to Nation Newly-Electrified 437-Km Railway Tracks; Inaugurates Car Shed at Lumding
Vande Bharat Express to Help Realize "Transformation Through Transportation" Goal of PM: CM
Built With Indigenously-Developed Technology, Vande Bharat Reflects Achievement of Atmanirbharta: CM
PM Modi Deserve Praise From All Quarters for His Relentless Efforts for Growth, Development of NE: CM
Assam Chief Minister Dr. Himanta Biswa Sarma on Monday attended the flagging off of Northeast India's first Vande Bharat Express train by Prime Minister Narendra Modi through the video-conferencing mode at a ceremony held at Guwahati Railway Station. Connecting Guwahati with New Jalpaiguri in West Bengal, the Vande Bharat Express, a semi high-speed train built with indigenously developed technology, would cover the distance of approximate 411 kilometres within a span of 5 hours and 30 minutes. The state-of-the-art train is fitted with the modern train collision avoidance system (TCAS), also known as Kavach, and comes with numerous amenities such as bio-vacuum toilets, 360-degree revolving chairs, divyang-friendly washrooms and seat handles, among others, and is designed to provide an experience similar to that of air-travel to the passengers. This apart, the Prime Minister today also dedicated to the nation the newly-electrified 199-kilometers stretch of railway tracks connecting New Bongaigaon – Dudhnoi – Mendipathar and the 238-kilometers stretch between Guwahati and Chaparmukh. Also, the Prime Minister inaugurated the newly constructed DEMU (Diesel Electric Multiple Unit)/MEMU (Mainline Electric Multiple Unit) Shed at Lumding in Hojai district.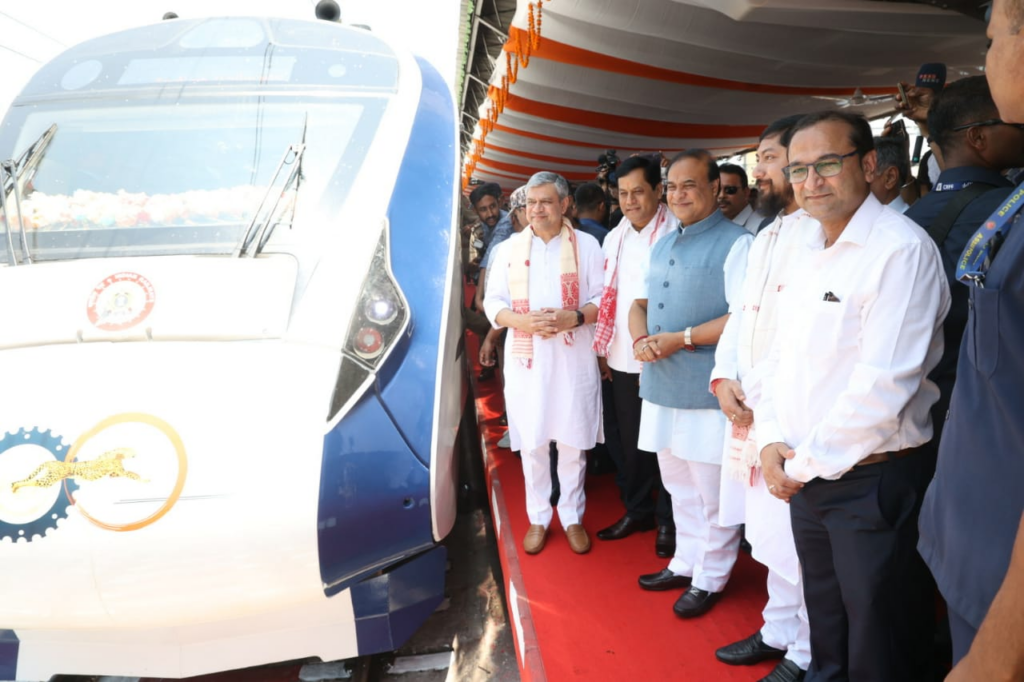 Addressing the gathering, Chief Minister Dr. Sarma exuded confidence the Vande Bharat Express train would play a major role in giving shape to the Prime Minister's goal of "transformation through transportation" for the Northeastern region of the country. Expressing happiness at the Vande Bharat being a train built with indigenously developed technologies, Chief Minister Dr. Sarma said the semi high-speed train reflects the self-reliance, or atmanirbharta, the country has been achieving for the past 9 years under the dynamic leadership of the Prime Minister. Referring to the Vande Bharat Express as one of the finest trains in its class, the Chief Minister added it would provide its passengers with a world-class travel experience and satisfaction. The Chief Minister added the Prime Minister deserved praises from all quarters for his relentless efforts aimed at overall growth and development in the Northeast.
The Chief Minister further stated that under the current dispensation at the Centre, the roadways, railways and waterways connectivity in the Northeast have witnessed a never-before-seen modernization push. Dr. Sarma also added two more railway bridges of the river Brahmaputra, with one each near the old Saraighat Bridge and the another adjacent to the Kaliabhumura Bridge, would come up.
Assam Governor Gulab Chand Kataria, Union Minister of Railways Ashwini Vaishnaw, Union Minister of Ports, Shipping & Waterways Sarbananda Sonowal, Union Minister of State for Home Nishit Parmanik, Assam Transport Minister Parimal Shuklabadya, Members of Parliament Queen Ojha, Pabitra Margherita, Kamakhya Prasad Tasa, along with a host of other dignitaries were also present.