Modern English School Kahilipara is thrilled to announce the 10th Inter-School Drama Competition, set to take place in the academic year 2023-24 at the auditorium of Pragjyoti ITA Centre for Performing Arts; the one-day event will take place at Mackhowa on November 11, 2023. This annual event, known for its commitment to nurturing young talent and fostering creativity, promises to be a remarkable platform for students to showcase their dramatic skills, all while addressing the pressing theme of "Co-Existence."
The competition will bring together students from various schools, offering them a unique opportunity to explore and express their perspectives on the theme of Co-Existence. This theme has been thoughtfully chosen to encourage students to reflect on the importance of living harmoniously with others, embracing diversity, and addressing the challenges and opportunities that arise from our interconnected world.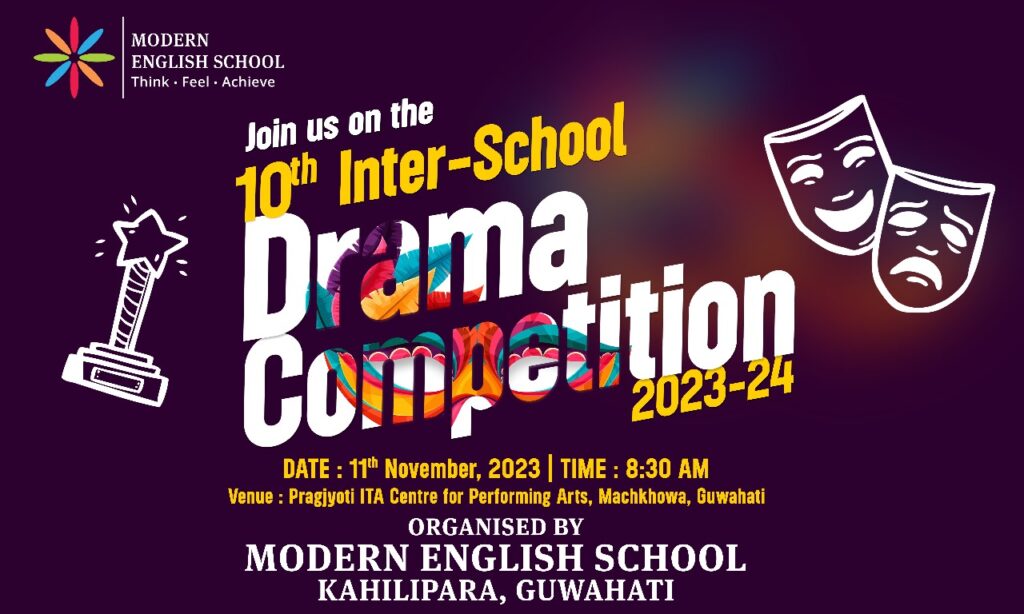 Various city schools' namely Shemford Futuristic School, Maria's Public School, Army Public School, Assam Jatiya Bidyalay, Kaziranga English Academy, Pub Guwahati High School, and New Fatasil High School, have officially confirmed their participation.
On the occasion, Mrs. Jonali Das, Principal of Modern English School Kahilipara, said, "This year's Inter-School Drama Competition is extra special as we celebrate the 10th edition. It has been a fantastic journey over the past decade, and we're excited to see how our participants will mark this milestone with their outstanding performances."
It is worth mentioning that Modern English School Kahilipara has also been organizing inter-school drama competitions for the last decade by inviting the schools of the Guwahati area, which has created an atmosphere of drama culture in itself. Besides limiting this effort to it, the school, in collaboration with various schools in Guwahati, has already organized drama workshops in several schools with the help of trained instructors from the National School of Drama, Delhi.
For the overall development of the students mentioned in the New Education Policy, it is necessary to introduce them to all aspects of education, like the art of drama, right from an early stage. Through the inter-school drama competition, prominent actors like Mridula Barua, Nilu Chakrabarti, Bhagirathi, Nayan Prasad, Rabijita Gogoi, Sanjib Hazarika, Arun Hazarika, Chetana Das have been felicitated by the school in the past.