₹10,000 Cr for Northeast in Current Railway Budget Will Help Transform Railway Landscape in Region: CM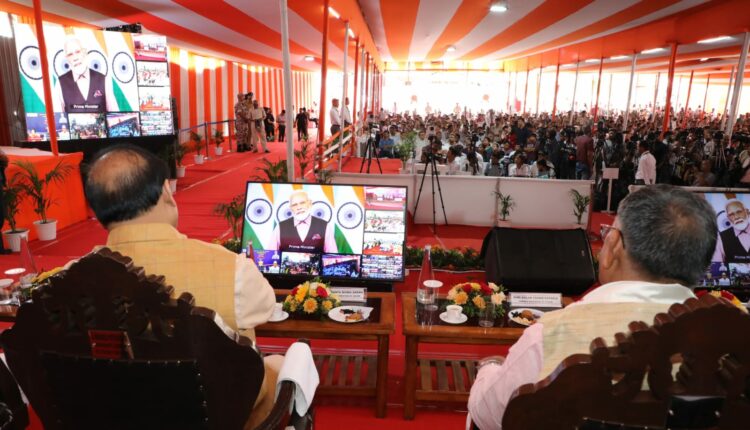 CM Attends Ceremonial Foundation Stone Laying for Redevelopment of Railway Stations by Prime Minister
Of 508 Stations Across Country, 32 from Assam to be Redeveloped Under Amrit Bharat Station Scheme
PM Modi Attaches Great Importance Towards All-Round Development of Assam, NE: CM
Assam Chief Minister Dr. Himanta Biswa Sarma on Sunday attended the foundation stone laying ceremony for redevelopment of as many as 508 railway stations from across the country, including 32 from Assam, under the Amrit Bharat Station Scheme through the video-conferencing method by Prime Minister Narendra Modi. Of the approximate ₹25,000 crore that has been allotted for the redevelopment of the 508 stations, around ₹990 crore have been earmarked for the modernization of 32 stations from Assam.
Speaking at the foundation stone laying ceremony for the redevelopment of the Narengi Railway Station in Guwahati, Chief Minister Dr. Sarma exuded confidence the 32 railway stations that would undergo redevelopment under the Amrit Bharat Station Scheme would provide a comfortable and dignified travel experiences to railway passengers from the State. He added that the 32 railway stations, on completion of the redevelopment works, would contribute greatly towards fulfilling the hopes and aspirations of the residents of Assam as far as the railways are concerned.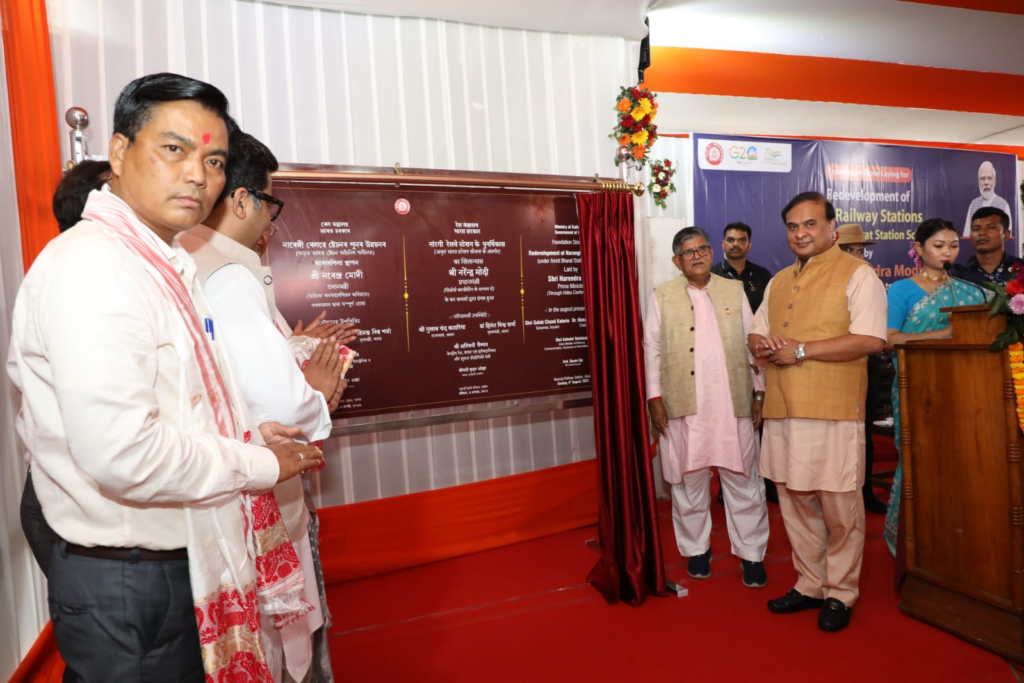 Referring to Prime Minister Narendra Modi's clarion call to the fellow countrymen to celebrate the 25 years from the 75th Independence Day as Amrit Kaal, Chief Minister Dr. Sarma said he was confident the nation would attain the status of vishwa guru (world leader) on the 100th year of Independence in 2047. Under the visionary leadership of the Prime Minister, India has been making rapid progresses on every fronts and today stands as the 5th largest economy in the world, Dr. Sarma said, adding the country would transform into the world's third largest economy too in future.
The Chief Minister said Prime Minister Narendra Modi attaches great importance to the all-round development of the Northeastern parts of the country. The fact that 32 railway stations of the total 508 for this phase of Amrit Bharat Station Scheme are from Assam are a manifestation of the Prime Minister's commitments towards the people of Assam, he said. Dr. Sarma also lauded the Union government's decision to grant as much as ₹10,000 crore for the Northeastern Frontier Railway in the railway budget. This would aid in timely completion of many ongoing projects being carried out by the Northeastern Frontier Railway, he added. The projects being undertaken by Northeast Frontier Railway for infrastructure development and modernization of railway network in the Northeast have the potential to transform the railway landscape in the region, he said.
Assam Governor Gulab Chand Kataria, Members of Parliament Queen Ojha and Pabitra Margherita, Mayor of Guwahati Municipal Corporation Mrigen Sarania, Chief General Manager of Northeast Frontier Railway Chetan Kumar Srivastava were also present.